Downtown La Conner has so much beauty to offer its guests. Whether it's the historical buildings with beautiful architecture, all the art pieces scattered throughout the town, or even just the backdrop of the gorgeous Swinomish Channel. You don't want to forget your camera when visiting La Conner!


Who doesn't want ice cream on a hot summer day?
Take a walk down to La Conner's Ice Cream Tower grab an ice cream cone and stick your head in their tiered photo cutout for the perfect group photo!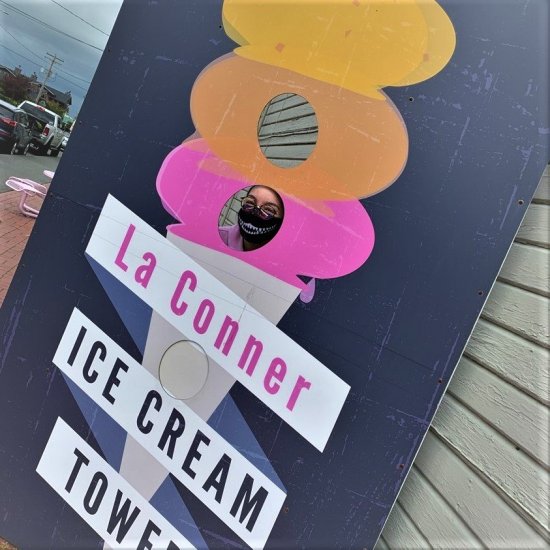 La Conner Ice Cream Tower
When visiting La Conner, you've got to stop by Nasty Jacks Antiques and visit their fortune teller out front. Get a read on what your future holds and grab a selfie with him while you're at it.


Nasty Jacks Antique's

The town of La Conner is very nautical as it sits next to the Swinomish Channel. Stroll down the waterfront boardwalk and take advantage of the beautiful blue aquatic backdrop for one of your selfies. You must catch a sunset over the water!


Rainbow Bridge

Sunflowers and farm fields at Hedlinds Farm make for the best vibrant selfie! There are lots of photo opportunities here all year round.
Visiting La Conner in the fall?
Great! Hedlinds Farmhas the most colorful pumpkin patch, perfect for fall photos.


Take pictures of or with all the totem poles all around town! There are so many unique totem poles to choose from, you can find them at Swadab's Park, the La Conner Elementary School, and right outside of Maple Hall. Each pole is different and portrays a different message.


Your unforgettable experience in La Conner, WA, starts at La Conner Country Inn. The Inn sits next to the Swinomish Channel in the heart of downtown La Conner, an excellent location if you want to bask in gorgeous waterfront views and enjoy all things La Conner. You'll love our complimentary continental breakfast each morning after a good night's sleep as you prepare for another wonderful day in La Conner. To make a reservation online, visit our website today!